A Note from Blanka
In 1978 in Philadelphia, together with my husband Jiri Zizka, I encountered the artists working in a small collaborative company called the Wilma Project.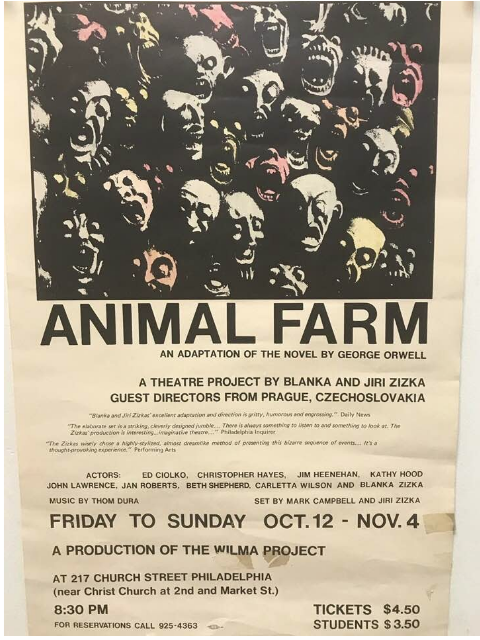 Even though extremely young and barely speaking any English, Jiri and I had enough audacity to adapt and direct George Orwell's Animal Farm for the company. Animal Farm was a forbidden book during the oppressive regime in the former Czechoslovakia where we grew up. In Prague we read a carbon copy of a typed up translation in secret and were so impressed by the ironic depiction of what we considered our situation that the text had to become our first theatrical work in our new country.
This was the new beginning of the Wilma Theater, as we renamed the company in 1981, when we opened our first 100-seat theater on Sansom Street. I'm only mentioning the beginnings to demonstrate the scope of time I have been involved and dedicated to the Wilma.
This year, working for the Wilma from a distance, I came to a conclusion that it's time for me to let go. And it's a good time, indeed, for the Wilma to make a full transition. I'm very excited about the new Wilma leadership – the Artistic Cohort: led by Yury Urnov, James Ijames and Morgan Green, together with the Managing Director Leigh Goldenberg and new Executive Committee of the Board lead by Wray Broughton, and, of course, the members of the Wilma HotHouse Acting Company – they are all amazingly talented, courageous, knowledgable and collaborative group of people ready to carve the new path for the Wilma. It will be a different Wilma, but I know that the spirit of curiosity, generosity, artistic interrogation and vigor, collaboration, and care will be valued and further explored.
I'm very excited about the Wilma's future. 
-Blanka Zizka
WATCH
Slideshow
Share your memories
Please use this space to share memories from your favorite productions directed by Blanka, your favorite stories of working with her, or other memories and photos you have of her amazing work.