The Wilma Theater announces incoming Managing Director Leigh Goldenberg
February 18, 2020
Wilma Theater
The Wilma Theater is thrilled to announce that Leigh Goldenberg has been hired to the theater's newest managing director, replacing interim Managing Director Neil Kutner.
Goldenberg, who is currently the Executive Director of Theatre Philadelphia, will begin March 23.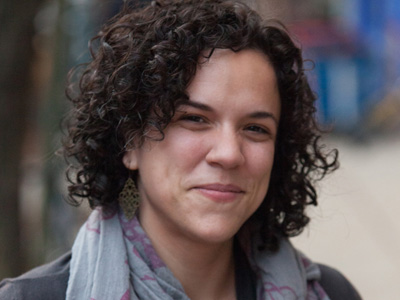 Leigh Goldenberg leads mission-driven and creative organizations, with a commitment to Philadelphia. Since January 2017, she has served as the Executive Director of Theatre Philadelphia, the region's theatre marketing and leadership organization. During her tenure, she started Philly Theatre Week, a region-wide celebration of theatre performance supported by the National Endowment for the Arts. Leigh also drove changes to the Barrymore Awards program with an eye towards inclusion and representation including the implementation of gender inclusive performance awards.
Previously, she worked with Wash Cycle Laundry, a triple-bottom line laundry and linen service that delivers by bicycle and creates jobs for vulnerable adults, for which she oversaw expansion into two new markets. In Philadelphia, she has held marketing positions at Arden Theatre Company and Lantern Theater Company, as well as consulted for Tiny Dynamite, and Public Citizens for Children and Youth. In New York City, she co-founded Stone Soup Theatre Arts, a politically and socially conscious theatre company; was a member of the first Producer's Lab at Women's Project; and worked in administrative or production capacities with HERE Arts Center, The Pearl Theatre Company, Clubbed Thumb, and MCC, among others. She graduated Magna Cum Laude from Marymount Manhattan College with a degree in Theatre Production and Management.
Leigh is the President of the South Philly Food Co-op, a community-owned democratically-controlled organization opening a grocery store in Spring 2020. She chairs the Friends of Kirkbride Elementary School, and serves as a Democratic Committeeperson in the First Ward. Leigh is an alumn of Leadership Philadelphia's Connectors and Keepers and Philly Girls Do Good, which celebrates women leaders in community development, and was a Rad Girls nominee for Connector of the Year in 2018.
Her work has been featured in local and national outlets including The New York Times, MSNBC, NPR, Fast Company, Forbes, the Wall Street Journal, The Washington Post, and American Theatre Magazine. She has written for The Philadelphia Inquirer, Philly Love Notes, and Spoke Magazine and she has appeared on ABC's The $100,000 Pyramid and the DIY Network's Kitchen Impossible. She lives in South Philadelphia and rides her bicycle around town, often on a tandem with her husband and kid to theatre events and Phillies games.