More on the Globe
July 7, 2020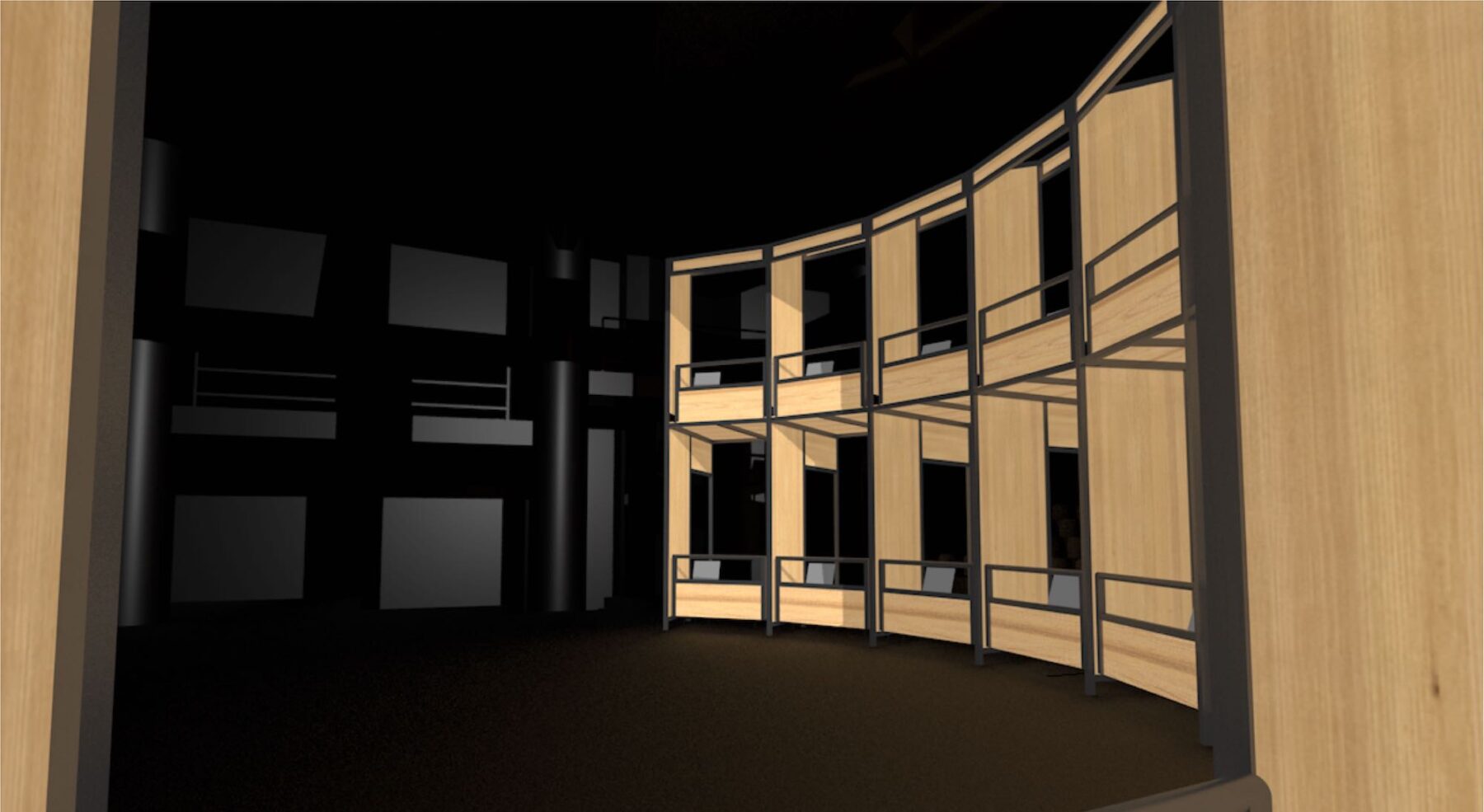 Dear Friends of the Wilma,
As artistic leaders for the Wilma, we want to share more details on the Globe concept.
Since March 13, we moved all operations of the Wilma remotely, including our administrative efforts, our education programs, and our artistic production. We will not open our facilities before it is safe to do so. The Wilma firmly believes that the safety of our artists, crew, staff, and audience are paramount. We have not, nor will we, ask our actors, staff or audiences to do anything that is not determined to be safe.
Here are more details on our thoughts to date, and continuing iteration of the Globe idea. We hope that all of the Wilma family will lean in with us as we continue our exploration and discovery process on a safe return to the theater:
Timing of the Wilma returning to its theater.
First of all, and most importantly – we will not open the theater before it is safe, and we have all City and union (Actors Equity, IATSE, USA, and SDC) protocols implemented for returning to the theater, with consultation from medical professionals at University of Pennsylvania and others.
The Globe is Designed to Enhance Our Other Safety Protocols.

We envision a theatrical space that provides a higher level of safety than might be required, even after we are all allowed to come together. As long as it is unsafe to gather in larger groups, or to even bring our staff and actors together, we will continue creating virtual work – and only virtual work.
We have developed a number of calendar scenarios with potential production openings, based entirely on when it will be safe to gather. In addition to safety, our plans prioritize flexibility, so that we can be ready to pivot and adapt to the circumstances. While our regular capacity is 300+ seats, the current designs for the Globe include a gradual increase in attendance, starting at only 35 people and going up to 100.
We have announced our upcoming season of plays, and in our WilmaPass communications have been clear that purchases are not tied to dates, and can be utilized for in-person or virtual work, or a combination of the two.
The Objectives of the Globe concept
The Wilma is a theater; live production is our main tool of delivering ideas, social messages, and emotions. In the existing system, live production is also the only real way for the Wilma to employ freelance artists and production crew.
We wanted to dream and innovate about how we might be able to gather again so we invited our designers for initial input in their area of creative expertise, followed by input from our board, many of our staff, friends, and specialists as we imagined a safer space where live production would be possible. Every night with each new audience, the energy of theater performance changes. It's this energy of a live performance that we all miss and crave. The Globe is designed not only to add safety, but also to create a sense of community where this energy can be experienced.
The Globe will Provide Enhanced Accessibility
The entire lower level of the Globe offers accessible seating, which can be entered by existing elevators in our building, next to an accessible bathroom. This is more accessible seating than in the Wilma's current configuration. We will continue to focus on how the theater can be more accessible to people with limited mobility when we return.

Additionally, we have been focused on other types of accessibility in developing our plans. We are exploring a sophisticated video system that will allow a high-quality viewing experience at home, with lower ticket prices along with expanded options for captioning, audio description, translation, and more.
Continuing Evolution of the Globe Concept
We've been sharing this idea privately with many people, including our HotHouse company, staff, board, and other colleagues before sharing publicly. Every time we shared it, we heard and saw hope. Hope that live theater might be possible again in the foreseeable future, and that this solution was an idea worth continued exploration. Like the work we create for the stage, this project is also iterative and collaborative. The feedback we've received since announcing helps us bring needed specificity to our concepts while also validating our belief that we can and must continue to innovate new ways to bring our community together.
Funding the Globe
Our budget for this project will come from a combination of reducing scenic expenses and additional fundraising efforts to support our return. We also recognize that without an investment in our space, and all the safety measures we know are necessary, we will not be able to produce live events – the crux of our organization and at the heart of our mission.
By finding a way forward on live productions, we will continue to be in a position to employ the dozens of individuals who are part of a Wilma show.
Wilma's Commitment to its Artists and Staff
Starting on March 13, we moved all operations of the Wilma remotely, including our administrative efforts, our education programs, and our artistic production.
Throughout the pandemic, the Wilma has continued our work with our artists and staff. We are working hard, inventing alternative versions of art-production – video, audio, and streaming existing works.
Our salaried staff have remained employed without salary reductions or furloughs; we have continued our weekly HotHouse training sessions online, for which our actors are paid; and we honored contracts for our teaching artists who were slated to begin in-school residences in the spring. Our summer camp will happen online, as well.
IS GOD IS, the final production of our 2019-20 season, held a virtual workshop in June to explore a digital production, and all artists worked remotely and were compensated under existing union contracts. Additional digital projects have occurred fully virtually, in-line with union agreements and payscale.
This is the model we intend to pursue moving forward – keeping everyone remote until there is confidence in a safe return. We have, and will continue to, adjust projects so that each person involved can feel safe with our way forward. And, it is our continuing ambition to meet expectations for pay, healthcare, and working conditions set forth by our union partners.
Safety Measures and Protocols for Artists, Staff, and Audiences
Here are examples of decisions we've made so far:
Constant monitoring of local conditions, as well as active participation in national and local conversations with colleagues and experts on best practices.
Contingency plans for pause or shut at any point in a production process, should health and safety be compromised or threatened.
Continued accommodation of remote work for our employees, including HotHouse company and teaching artists.
Masks mandatory for all patrons, crew, and front of house staff
Cleaning and sanitizing before and after each performance.
HVAC: Increased/ improved air filtering, purging the air before and after each performance.
Curtains on the back-sides of the Globe booths.
Safe dressing-rooms and rehearsal protocols.
A current 2020-2021 Season planned of four plays that have no intermission.
Using three separate entrances to the theater to allow for patrons' safe distancing entering and exiting the theater.
One-way patrons' movement around the Globe to/out their boxes, and timed entrance tickets.
Increase in paid front of house staff to direct audience flow.
Bathrooms will be restricted to a few patrons at a time.
Reduction of printed materials, including tickets and programs, to limit in-person contact.
Ongoing coordination with Good Karma Cafe on their reopening plans, though as of this writing their Wilma location has been closed since March 13.
We are staying informed about research and recommendations about additional protocols and best practices including:
Minimum safe distances from actors to patrons.
Regularity of actors and crew testing.
Monitoring of the audiences' symptoms.
Transparent masks for the actors.
Usage of microphones.
Contactless concessions and box office transactions
Transparent covers on the front of the Globe boxes.
This list is an ongoing process; additional protocols will be added as we learn from our unions, government agencies, medical professionals, and our community of artists and patrons who will share this space with us.
We know that we cannot go back to what was before; we have to create and produce in a radically different way. We are using this time and our resources to reflect deeply on safe and inclusive ways for sharing our work.
Our thanks to everyone who commented with thoughtful feedback. Your contributions are valuable to the Wilma and will make our theater a safer, fairer, and more equitable place as we move forward.
If you want to share feedback on the imagining and implementation of this concept, please reach out using this form.
Sincerely,
Yury Urnov, Lead Artistic Director, 2020-21 Season
Leigh Goldenberg, Managing Director
James Ijames, Co-Artistic Director
Morgan Green, Co-Artistic Director
Blanka Zizka, Co-Artistic Director