Melanye's Family's Gumbo Recipe
February 19, 2021
In the new documentary The Lagniappe Project, Wilma HotHouse Acting Company Member Melanye Finister shares her mother's recipe for Creole gumbo with residents from Northern Children's Services, attempting to find community and comfort.
Melanye was generous enough to share the recipe, below.
Ingredients:
1 C veg oil
1 C flour
3-4 C chopped onions
2-3 C chopped green peppers
2-3 C chopped celery
2-3 Tablespoons chopped garlic
3 C okra (frozen cut up)
2 14oz. cans stewed or chopped tomatoes
3-4 Lbs. chicken
3-4 Lbs. smoked beef sausage cut in half inch rounds
3-4 Lbs. Shrimp, peeled deveined
3-4 Quarts chicken stock or water
Chopped green onions and chopped parsley for garnish
Spices:
Creole season salt
Black Pepper
Cayenne
Bay leaves 3-4
File
Crab boil or Old Bay seasoning
Garlic powder
Louisiana Hot Sauce
STEPS
Cook chicken in 2-3 quarts of water with seasoning, once cooked through, cool and debone. Set stock aside.
While chicken is cooking, sauté onions, peppers, celery until soft and starting to brown. Brown sausage in oven for 15-20 minutes at 350 degrees.
In a large skillet heat 2 Tbs. oil and add cut okra, sauté for 20-30 minutes until it stops roping and browns at edges, add chopped garlic and canned tomatoes and heat through.
Make a Roux!
Heat oil in stock pot over medium flame. Once oil starts to shimmer whisk in flour and begin browning. lower heat so it doesn't burn and keep the mixture moving. Brown to a deep chocolate color being careful not to burn. If it burns, you must discard and start over. It takes about 20-30 minutes and don't walk away!
Add veggies, okra and broth to roux cook for 30-40 minutes add seasoning salt, crab boil, bay leaves and spices to taste. for the last 40 minutes of cooking add sausage and chicken and adjust seasoning. Last 10 minutes add file and shrimp and final adjustments for seasonings.
Allow pot to cool and refrigerate 24-48 hours for gumbo to mellow and flavors to marry. (It tastes More better if you let it set!) OR serve right away over rice and garnished with parsley and green onions.
_________________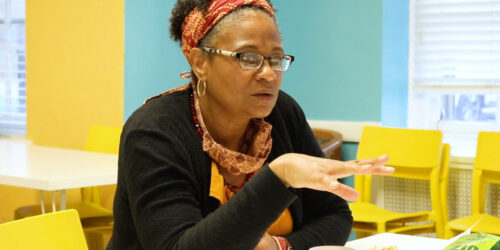 The Lagniappe Project is available for free, part of the HotHouse Shorts Series. Click here to register.