Inside the Wilma Bubble
October 29, 2020
HotHouse Company Member Sarah Gliko documented her experience living in the "Wilma bubble" as she rehearsed and captured Heroes of the Fourth Turning.
ANTICIPATION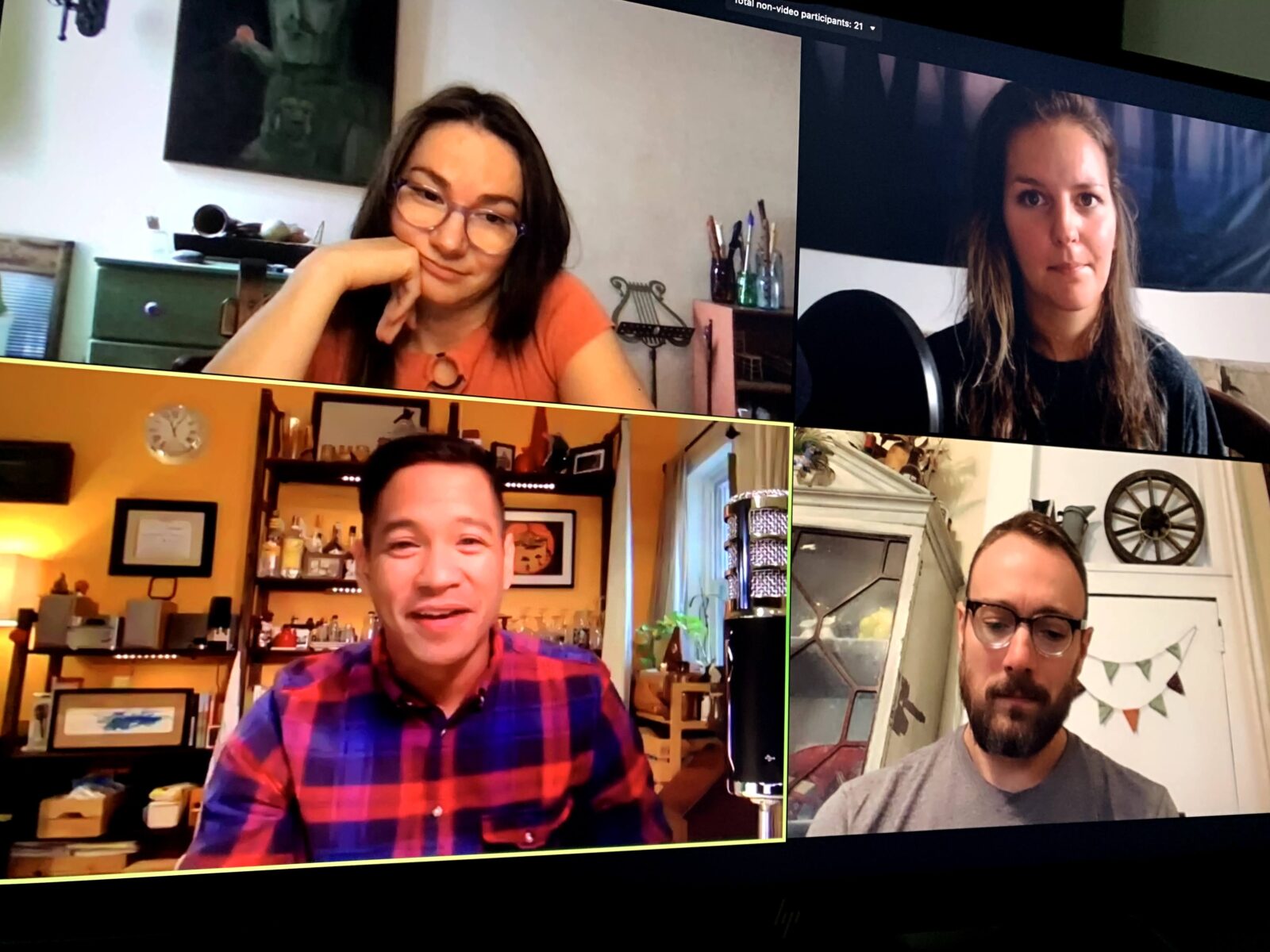 Writing from the in between. We vibrate in the space between Zoomland and the Great Outdoors. Our cast and crew has just finished up virtual rehearsals for Will Arbery's Heroes of the Fourth Turning, and now we gear up for phase two – traveling to the Poconos to capture this site-specific production.
The weekend before travel is all a-whirl!
Saturday Morning, Oct. 11
We all received our second COVID-19 test post quarantine. If all goes well, we set off on Monday. Now we wait for the email that says "negative." We've all been as safe as possible but the fear still clings to our excitement, tugging at the edges whispering, "What if?"
Saturday Afternoon, Oct. 11
Final read-through with the playwright. Nerves. Anticipation. The process keeps flowing and the fact that in a couple of days we'll be gathered together in the green and gold woods seems almost possible.
Sunday, Oct. 12
Jered and I voted today. Working on this particular play at this particular time makes me feel a particular way. And that way moves forward and pulls and pushes toward November 3rd. Waiting. We continue packing. We take a break to bring Alistair, our souls' companion, the heart of our row home, our beloved cat, to stay with my parents for the next 3 weeks. 3 weeks to inhabit a new world, 3 weeks to explore and uncover this new medium. And 3 weeks to find out where our country's compass is pointing.
Monday, Oct. 13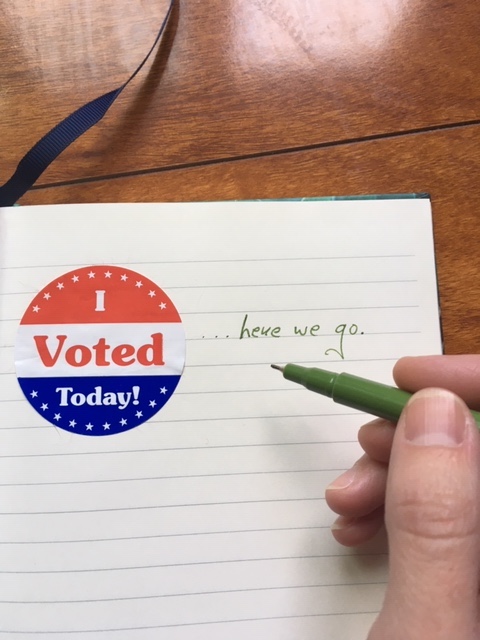 Waiting. Packing. Texting cast mates. Checking email for test results. … …
Waiting. Mouths reciting lines, brains scanning multiple to-do lists, bodies packing, missing Alistair.
Finally! An email! " YOUR BALLOT HAS BEEN RECEIVED."
here we go.
Another email!
ok… here we go
REUNION
Tuesday, Oct. 20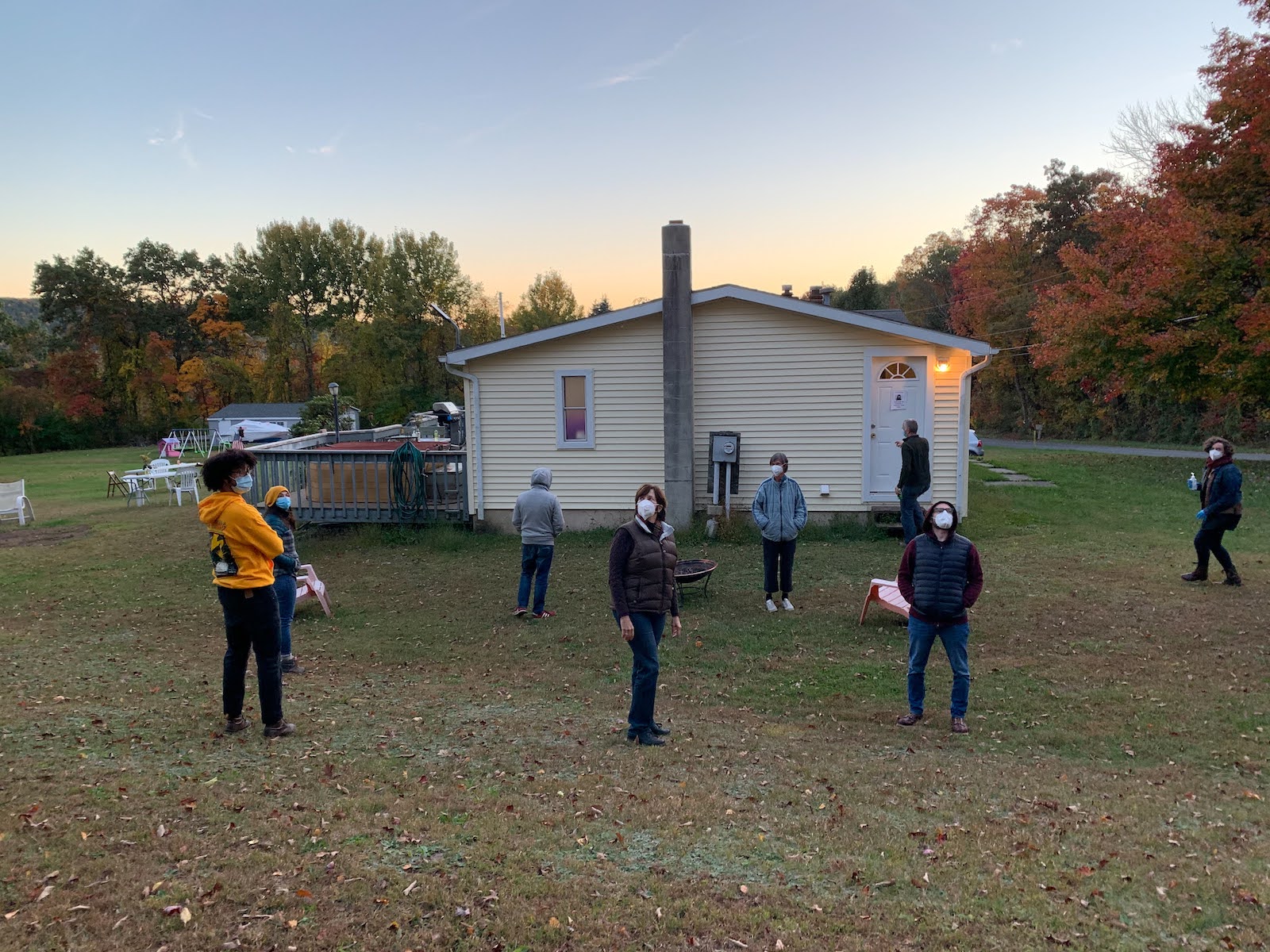 Here we are! Wow, ok this is our house. It seems to be five houses in one, sprawling, and after our first week, it already feels like home. After an ecstatic evening reunion, Justin, Campbell, Jered and I (MB hadn't arrived yet), gathered outside the next morning to read through the play. Sitting so close, looking into each other's eyes, we were giddy, almost abashed at the intimacy. We finally get it together and read through the play up until MB's character arrives, and right on cue to our shocked delight, MB pulls into the driveway… We are now complete!
We arrive on set after a gorgeous drive through cornfields and tree tunnels of blazing burnt orange, dripping gold, and candy apple red. Miss Pat! Blanka! Our heroic production and design family! Another reunion… joyful, loving eyes sparkling above masks, air hugs that mimic the jaws of life opening and closing passionately only to find our arms wrapped around our own bodies. Real hugs come later after more COVID testing.
As the week progresses, we get more and more comfortable working on location. The challenges are real: the weather, the lighting, this intoxicating and mysterious space between theatre and something else. We are all hyper aware, hyper present – The night symphony invites it but the stars demand it. We find a routine, a pleasant Poconos groove. Forgetting to layer up under costumes? That's a Pocono-no. Unwinding around the fire pit with snacks galore post rehearsal? That's a Pocoyes-yes.
Our first week wraps up with glorious news… we're allowed to hug! Instantly a line forms leading to the warm open arms of Miss Pat.
Blissful reunion.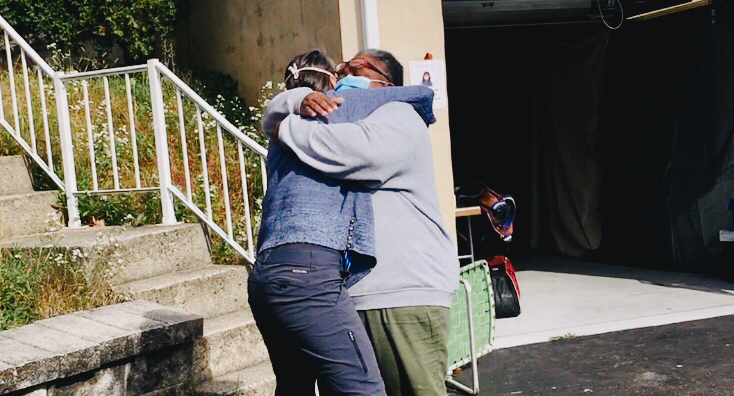 NATURE
Wednesday, Oct. 28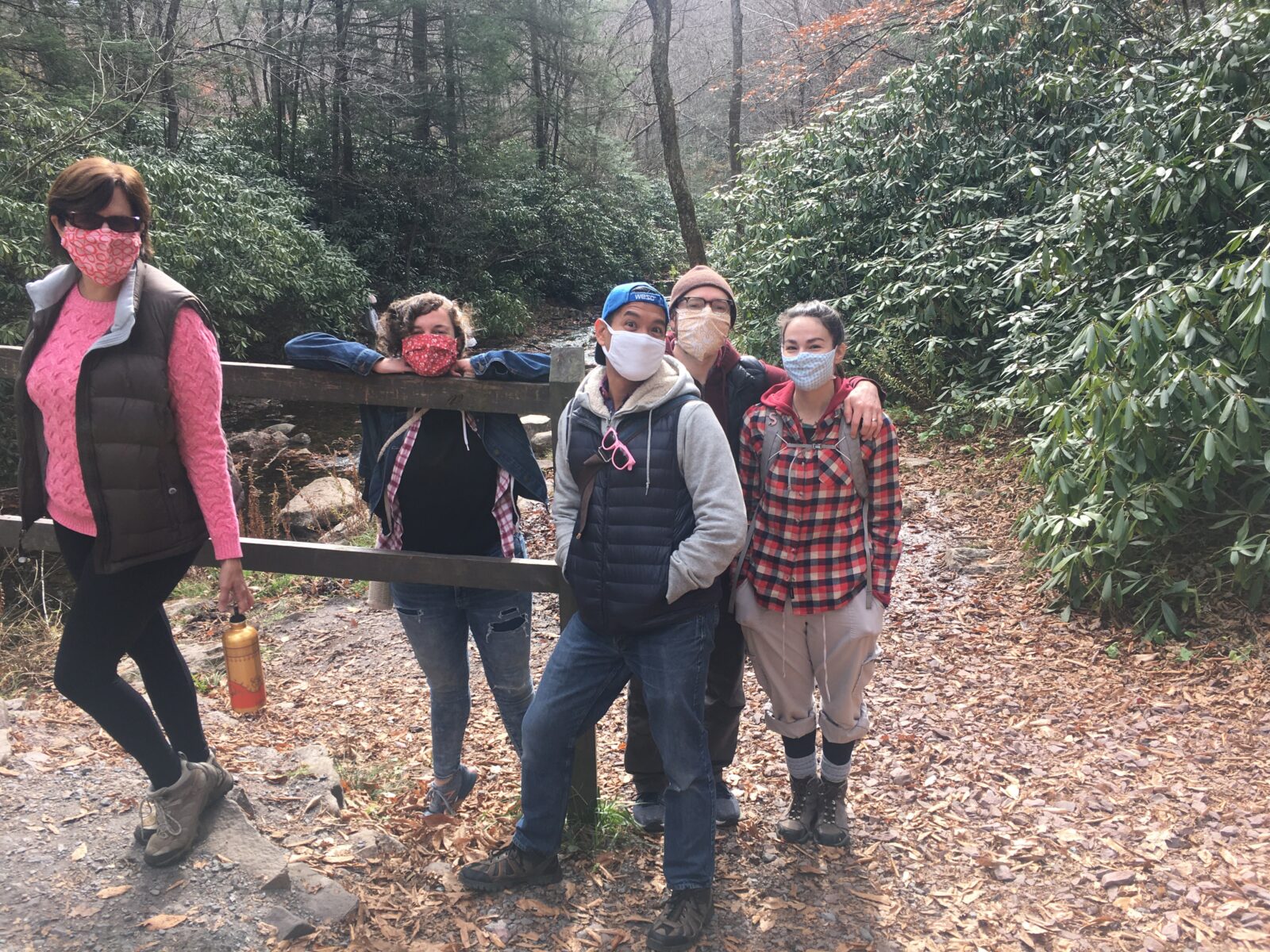 This week started with a bee sting and a bear! The plan for the day was to get our COVID test, go on a hike and then rehearse and capture the play at night. As I waited for my test, I felt the unmistakable sharp burn on my upper arm. After icing, Jered helped apply a poultice of oatmeal and plantain leaves, then we all took off on our hike.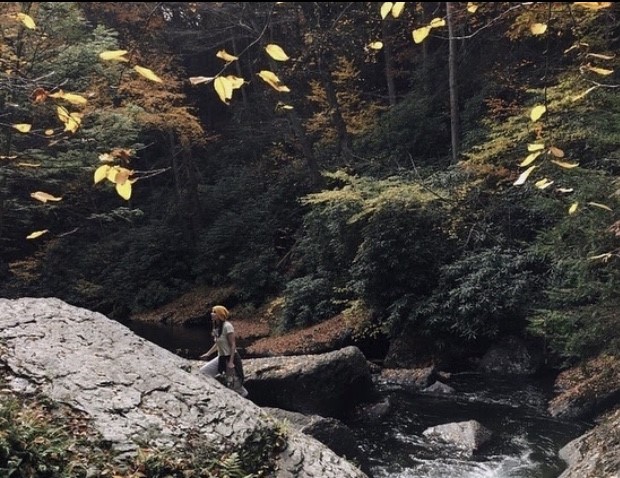 The trees are shaking and dancing off their multi colored tresses. Their limbs and necks, exposed and searching reach for the heavens, and at their feet… in the distance… a soft and mysterious patch of warm black. A bear! I breathe… my fear instantly transforms and my body crackles with acute aliveness. My first sighting opens the periphery of my existence in a way that relaxes my brow and upturns my mouth. I carry this feeling with me into our night work. Nature inside us and surrounding us as the nature of our work deepens and changes. Stop and start. Wait for the rain to ease. Lemme try that line again. Ignore the itching, swelling arm. Hold for cars. Adjust the mic. Don't block the light. The bats flicker by, the fox sings, and the owl screeches. Nature surrounding us. Inside us.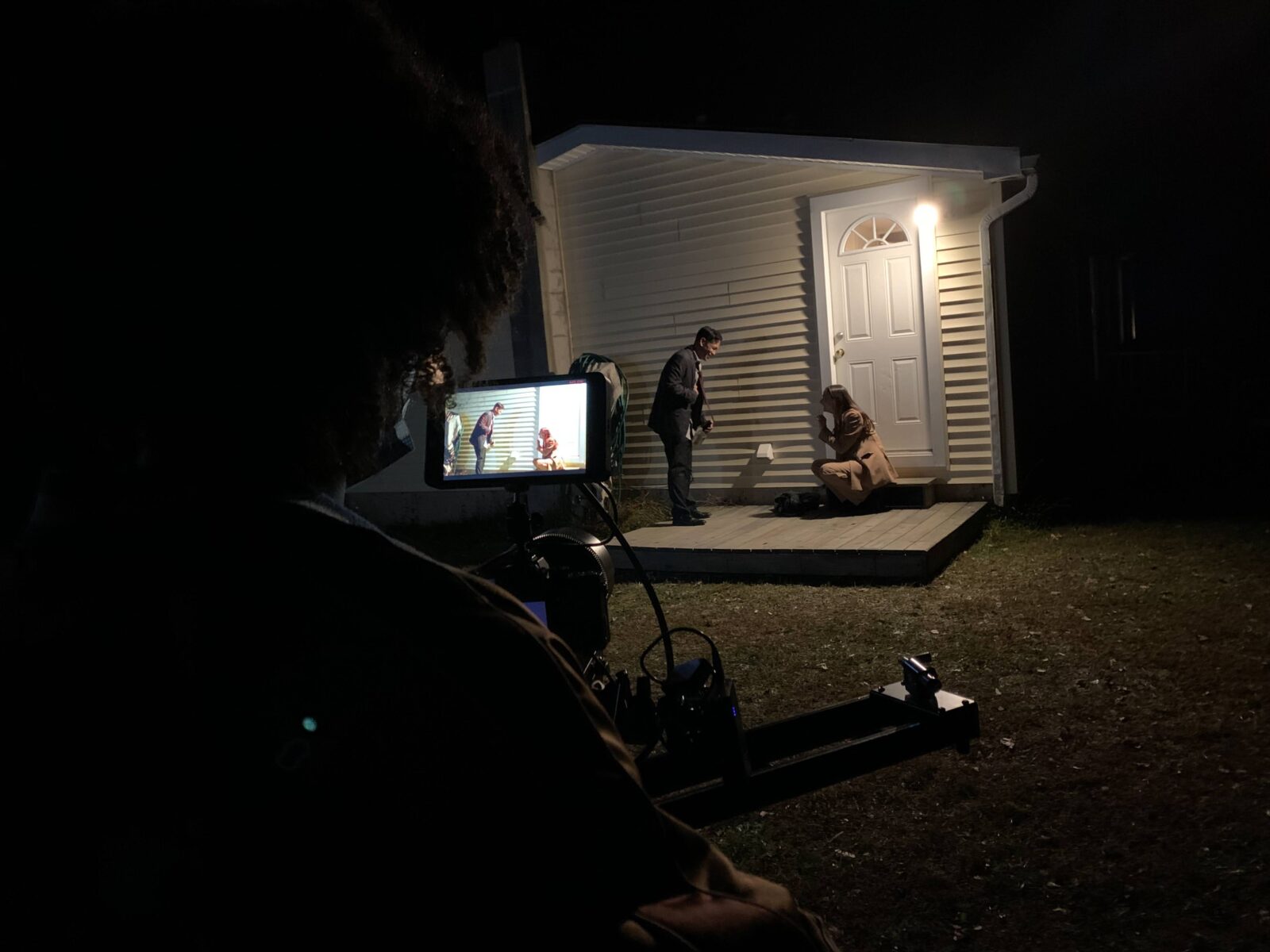 TIME
Sunday, Nov. 1
Our last week slipped into time elasticized. Long hours and short days, stretching and contracting. The weather turned rainier and colder, which meant more days off from shooting. Days for us to work on other projects. The house humming and buzzing, each of us in our rooms writing, teaching, making music, dancing. As twilight starts to saturate the sky, we all make our way to the kitchen and adjoining family room. My body jolts with familial deja vu. Growing up in a family of six, our many different energies were forever zipping throughout our house, but would always calm and coalesce downstairs around the dinner table. I've always known how lucky I was, and the gratitude I've felt answers the subconscious call to elasticize and stretch out to grab this moment. (And every moment of the past three weeks.) We put on music, get that fireplace going, make dinner, and settle in for a night of board games and Britain's Best Home Cooks.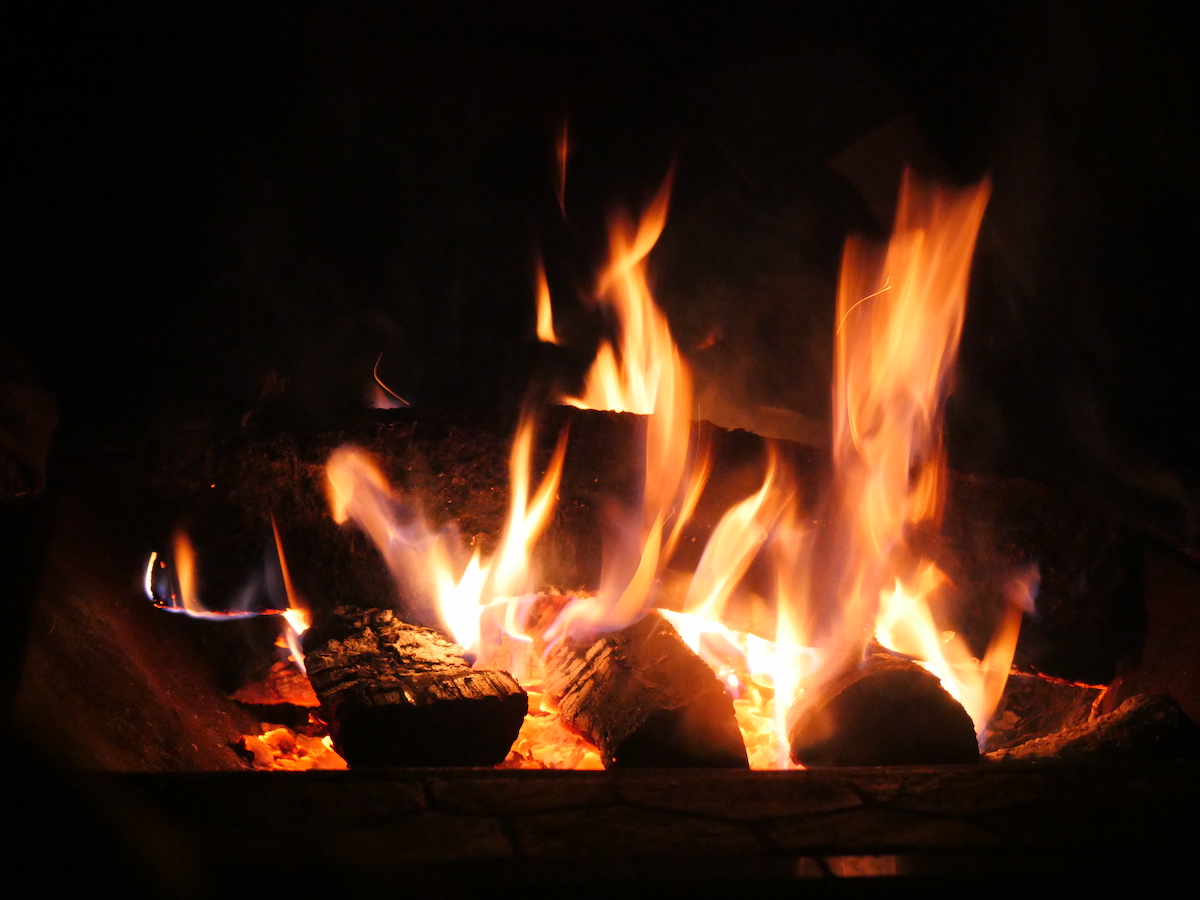 Our last week was heavy with knowing. That despite never feeling finished, we reached our last take. That this pandemic rages on and we've been beyond fortunate to have our hearts fortified for the winter ahead. That the country is about to make a decision… this open wound 3.8 million square miles wide.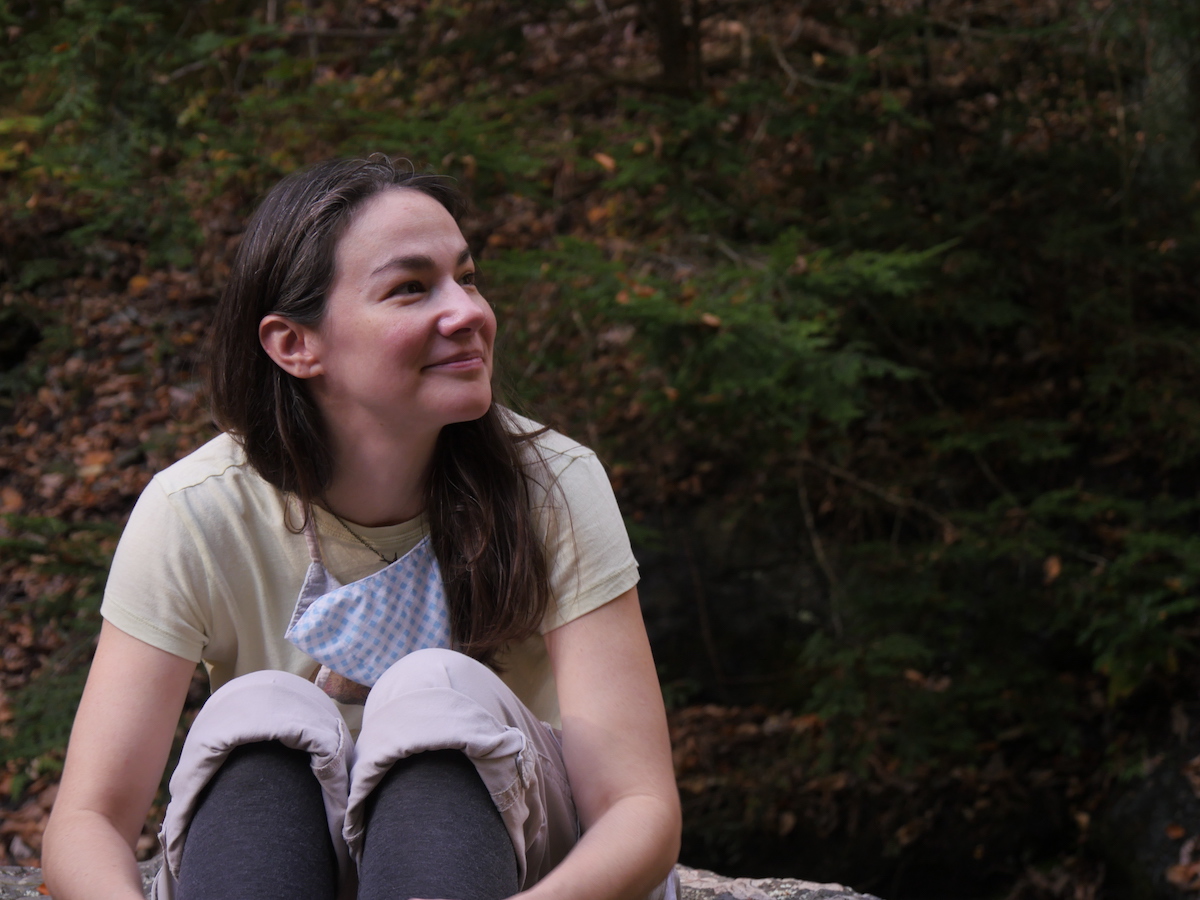 Our last day, (Halloween!), was buoyant with love. We all grabbed coffee and went on a beautiful hike, savoring the morning and looking forward to the afternoon. At 3 pm, we all gathered at Station St. House (the shoot location) for a final run of the play. No costumes, no cameras, no holding for cars, all shivering allowed! Our production and design team settled down onto the grass with tea and blankets, and offered us their live theatre energy as we said goodbye to this play and our time here. During our curtain call everything hit us at once. The fragility of every single everything. As the full witchy moon rose that evening we lingered to capture a bit more footage. The night got brighter and colder and time stretched out again, encouraging us to think back and look forward. Out-of-time Time nudged our feet and guided the roots down to take deep hold of this suspended present. Magicked time for a toast and endless goodbyes that melt forwards and backwards on the long drive home.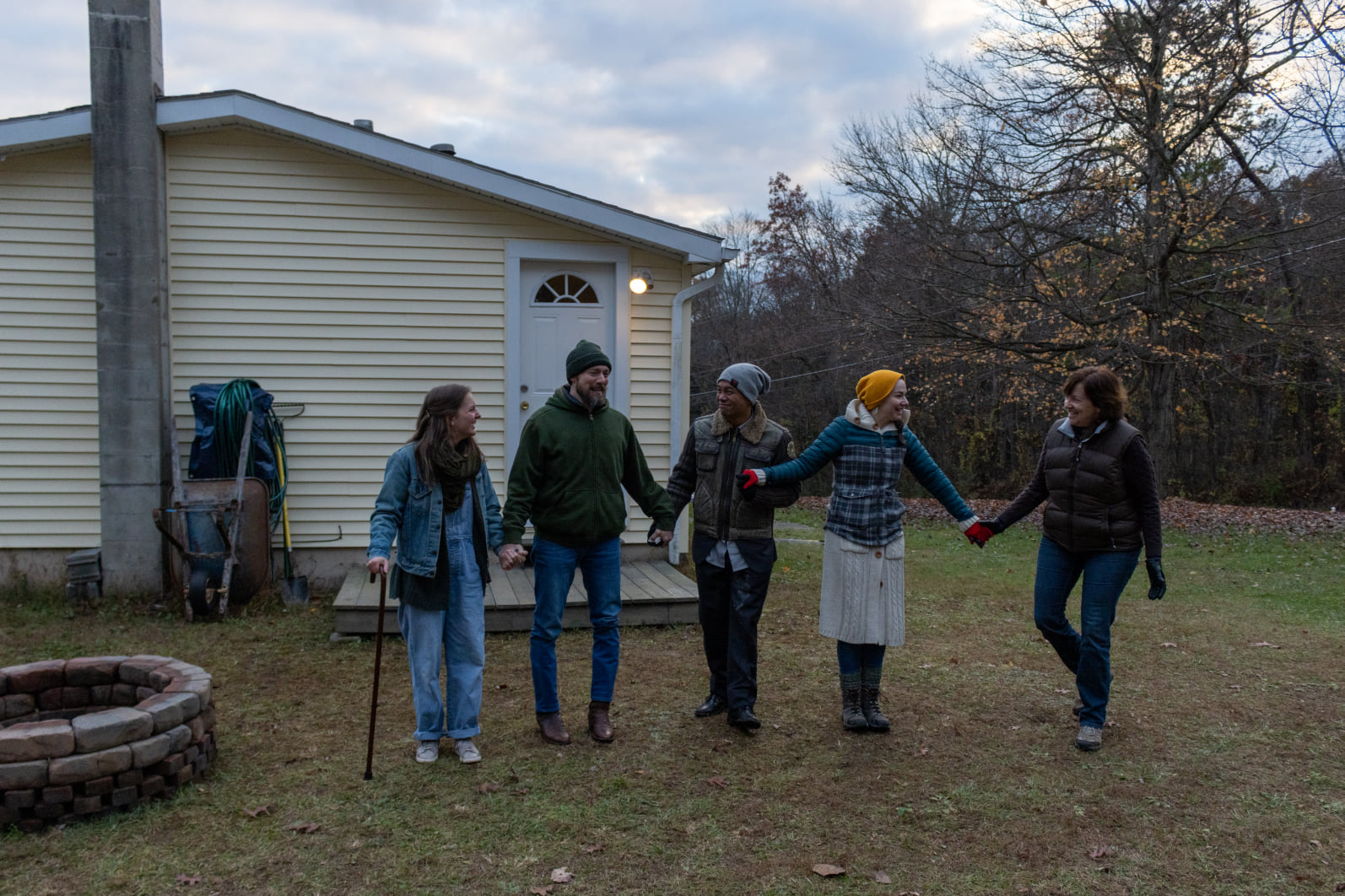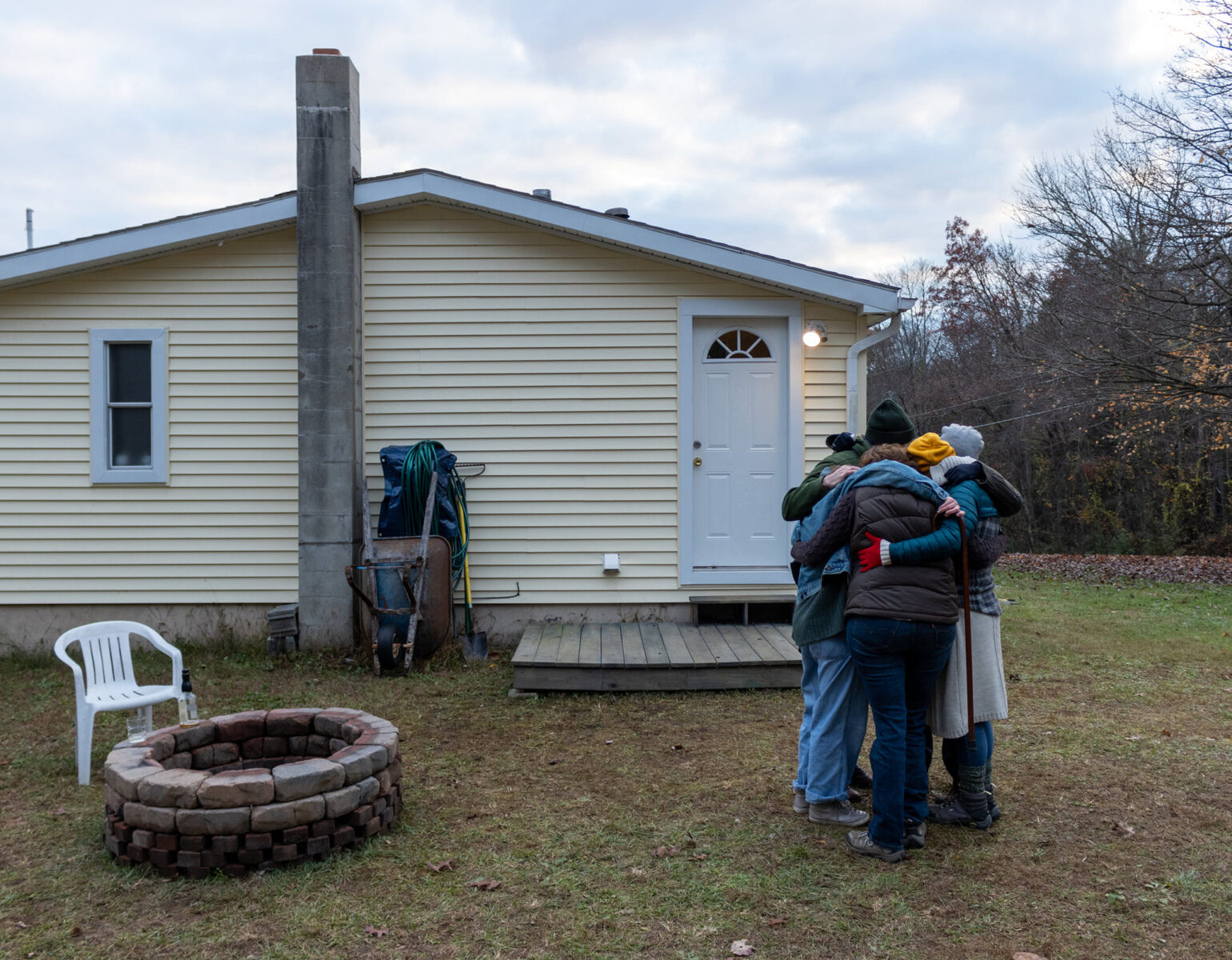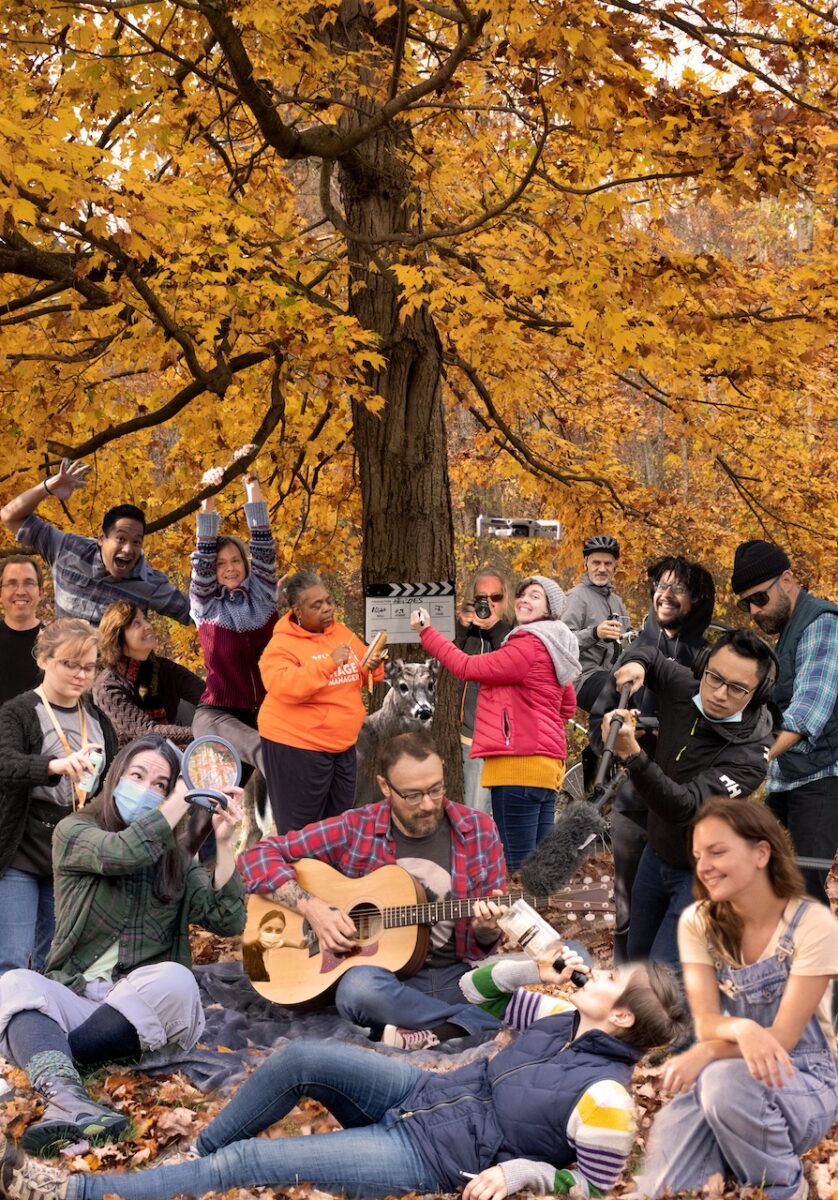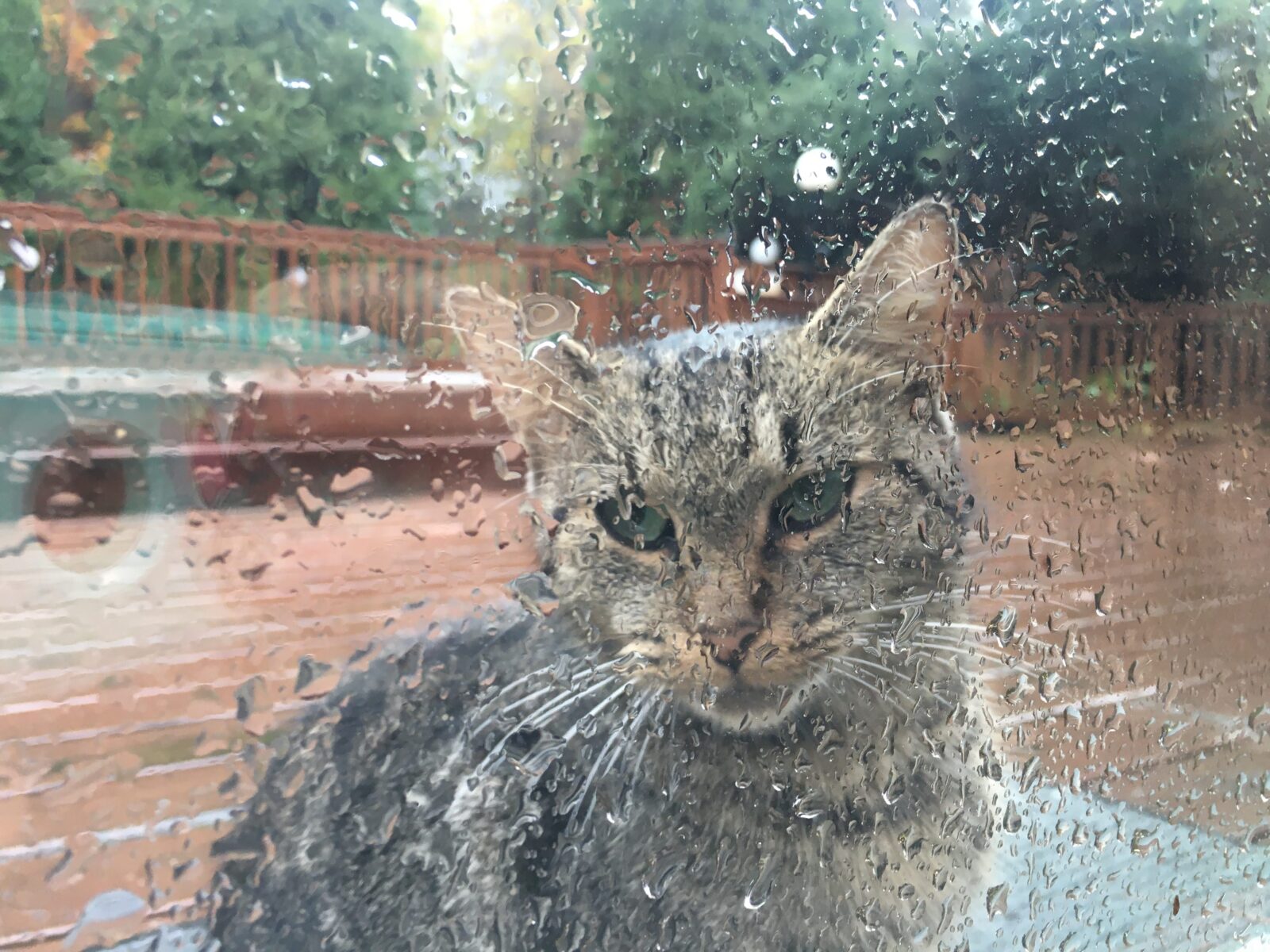 Heroes of the Fourth Turning will be released soon as a digital production. You can purchase a WilmaPass to get access to the production when it is released.
Photos on this page from Campbell O'Hare and Christopher Colucci.