Meet our new Board leadership
September 29, 2020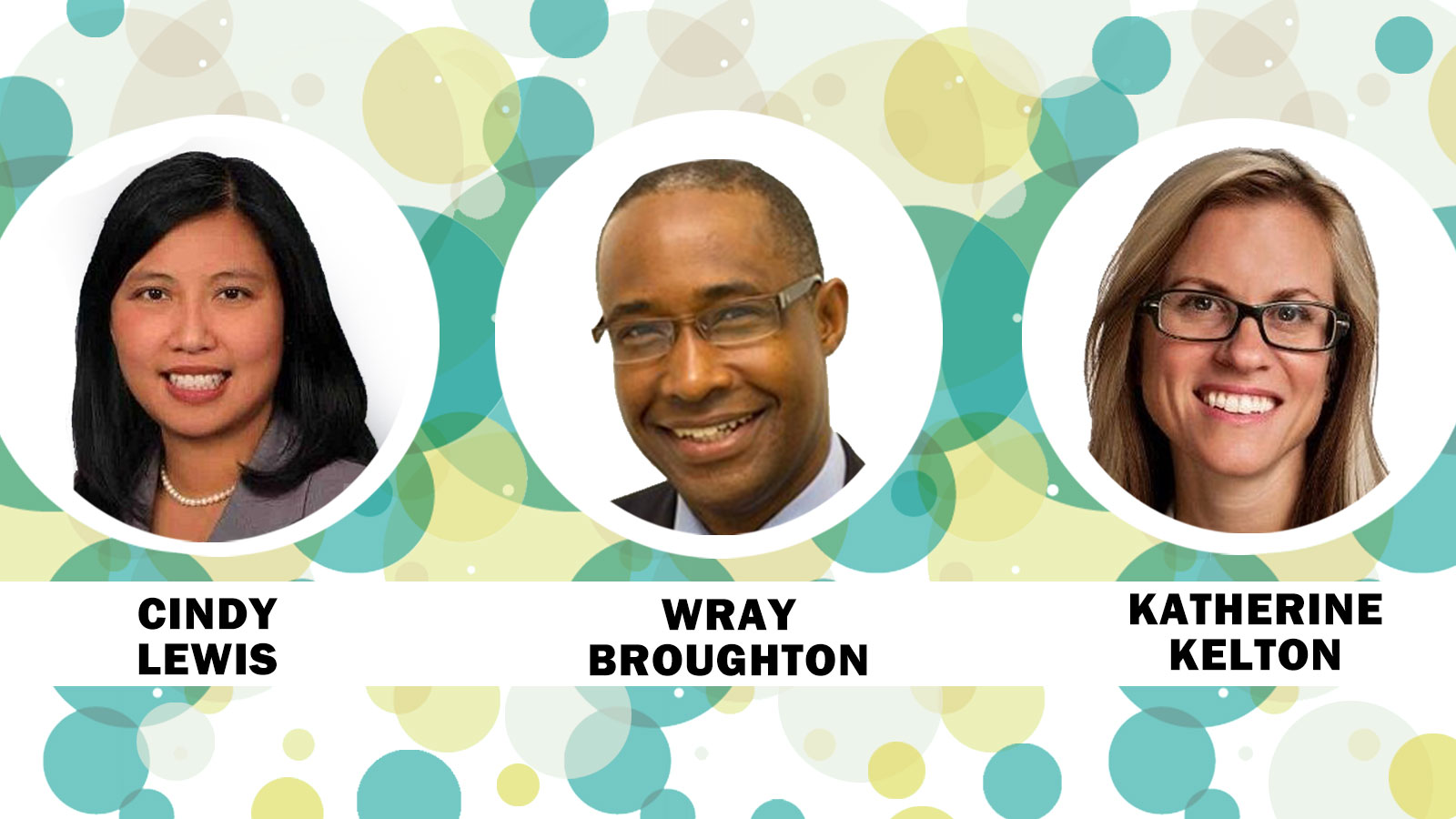 With our 2020-21 Season, the leadership of the Wilma has completely changed. We have a new cohort of Co-Artistic Directors, a new Managing Director, and now, new leadership of our board of directors.
We interviewed our newest board members – including our new Board President and Vice President – to learn how they got involved with the Wilma, and how they see the Wilma's future. Here are some excerpts of our Q+A with Wilma Board President Wray Broughton, Vice President Katherine Kelton, and Board Member Cindy Lewis.
WHERE DID YOU GROW UP? WAS THEATER OR THE ARTS PART OF YOUR LIFE GROWING UP?
Wray: I grew up in Virginia. The arts and particularly music has always been integral for me. I grew up listening to classical music. My grandmother loved and listened to recordings of Tchaikovsky all the time. And, my mother insisted that I learn to play a stringed instrument (in my case the viola) and that I train seriously. I nearly opted to go to music school for college and to pursue performing as my profession. I was dissuaded by my father (who paid the bills) and thought a business degree would have more utility.
Katherine: I grew up in the Philly burbs, in West Chester, PA. My parents and most of my sisters are still in the area. The arts were a big part of my childhood, mostly in the form of music lessons, museum trips and school plays. The highlight of the holidays was our annual trip to the city to see the Nutcracker. I've always been more of an audience member than a performer though!
Cindy: My parents were immigrants to the US during the Vietnam War. They came to the US with nothing except the clothes on their backs, and we were homeless for the first 5 years of my life. My father is an amazing man who worked three jobs and pursued a college education to get us to a better life. He eventually received a software engineer degree and worked for the US Defense Department, so I moved around a lot, every 18-24 months. The longest I lived anywhere with my family was in Alabama during my high school years. I attended the University of Pennsylvania for undergrad and stayed in this area ever since.
The theater and the arts were not a part of my life growing up – I (incorrectly) believed that the theater and the arts were for the affluent, dealing with topics with happily-ever-after endings. This was not my world. Being involved with the Wilma has opened my eyes to what theater and art can be to the community. It really wasn't until I started getting involved with the Wilma Theater did I appreciate how the Wilma strives to give access to all members of the community, how Camp Wilma could be an outreach to youth, and how art can give a voice and transparency to aspects of life not always visible.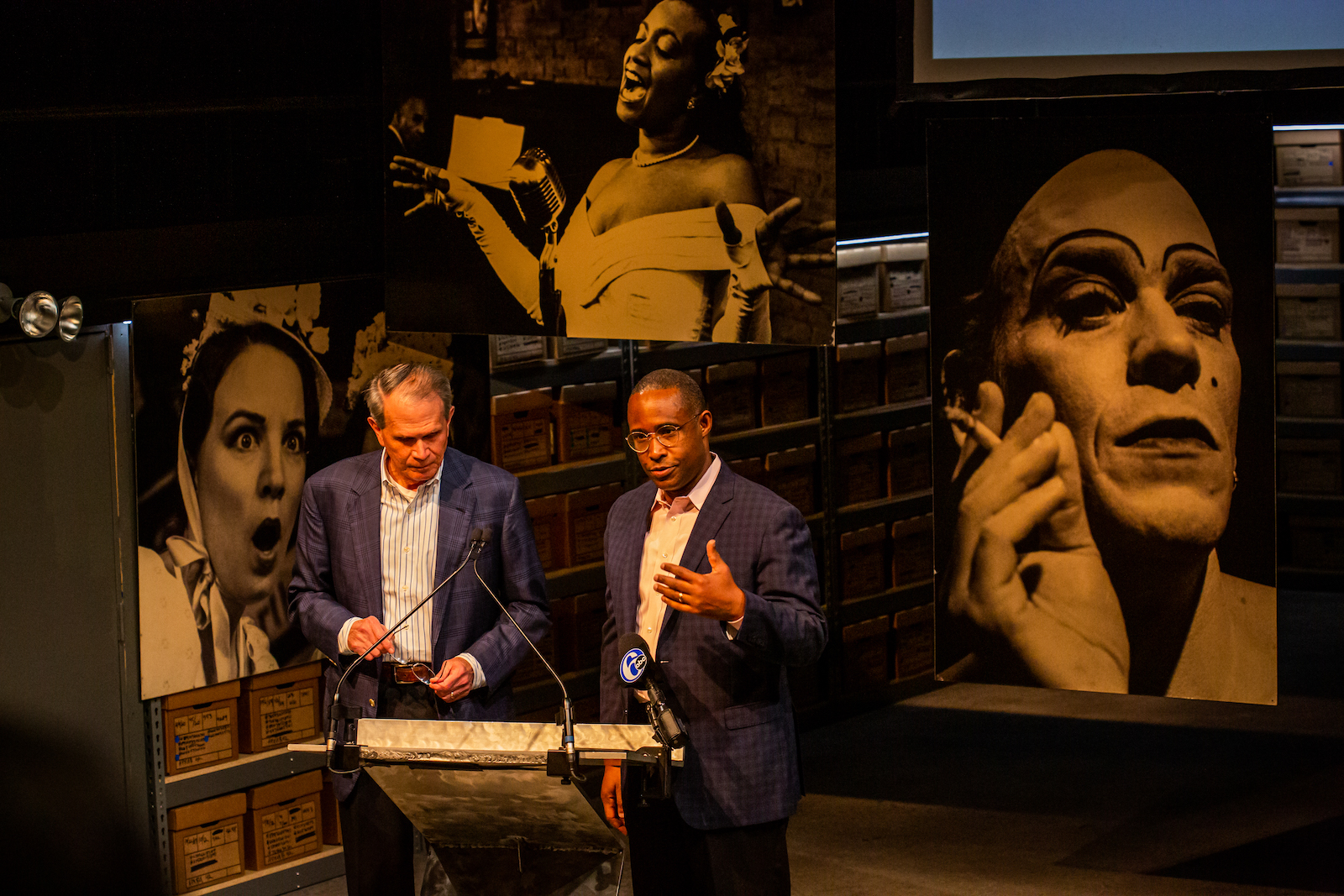 Theater should be both a refuge and a place we go to keep ourselves challenged and focused, and I think the Wilma is unique in its ability to deliver this for audience members.

Board Vice Chair Katherine Kelton
HOW DID YOU FIRST GET TO KNOW THE WILMA?
Wray: I was introduced to the Wilma by a good personal friend and former Board Member, Mark Wennell. And I was encouraged to join the Board by another good friend, and current Board Member, Jerry Goldberg.
Katherine: I first got to know the Wilma when I moved back to the city after grad school in 2001 and started following local theater. Eventually I ended up living nearby and my husband and I became subscribers.
Cindy: Wray and I were colleagues at EY over 20 years ago. Wray and I worked together on a number of diversity and inclusion initiatives at EY, at a time when public accounting firms were just starting to focus on this. We lost contact with each other for about 10 years, but recently reconnected over the Wilma. Wray has such a passion for the Wilma that he wanted to share it with me – he took my husband and I to our first Wilma show (Dionysus Was Such a Nice Man). The first words out of my mouth after the show – "WOW!" We've been hooked ever since.
WHY DID YOU DECIDE TO JOIN THE WILMA BOARD?
Wray: I was initially hesitant to join the Board because of personal and family commitments. I was, however, captivated by the vision and mission of the Wilma after my first meeting with [Co-Artistic Director] Blanka ­[Zizka] – and knew, I had to find a way to get involved. Creating and delivering thought provoking art in the midst of turbulent times; an enduring commitment to teaching the art of acting and investing in our resident HotHouse Company of actors; and, a sense of purpose with regard to education and empowering young people. It all resonated with me and I felt compelled to join.
Katherine: A former colleague approached me with the opportunity to join. I had always been a fan of the theater, but after meeting Blanka and [Former Interim Managing Director] Neil [Kutner], I was excited at the possibility to get involved in such a critical stage of the Wilma's evolution and to think about how we continue to build and support our community here and more globally. The kind of art and artists the Wilma attracts is even more vital now to keep inspiring critical thinking and critical dialogue. Theater should be both a refuge and a place we go to keep ourselves challenged and focused, and I think the Wilma is unique in its ability to deliver this for audience members.
Cindy: One of the most powerful aspects of the Wilma work to me is Camp Wilma. Having seen how some of the youth are involved with the Wilma is quite moving – understanding my personal history, you can understand why I am excited and passionate about initiatives that help youth see the strength and potential that they possess, and honestly, a safe place for them to express themselves. I wish I had such initiatives available to me when I was growing up.
Wray helped me see what the Wilma means to the community of Philadelphia, how it can be a powerful voice to some very deep topics, and how it can educate. I've come to know the Wilma as more than just a form of entertainment, but a forum where conversations can happen. I get energy when thought provoking conversations occur. I am honored to be a part of something that could make these things happen.
We are among just a few theaters that remain open during the crisis and are positioned to play a key role in defining the future of how art is produced and shared amongst both live, digital, and radio audiences.

Board Chair Wray Broughton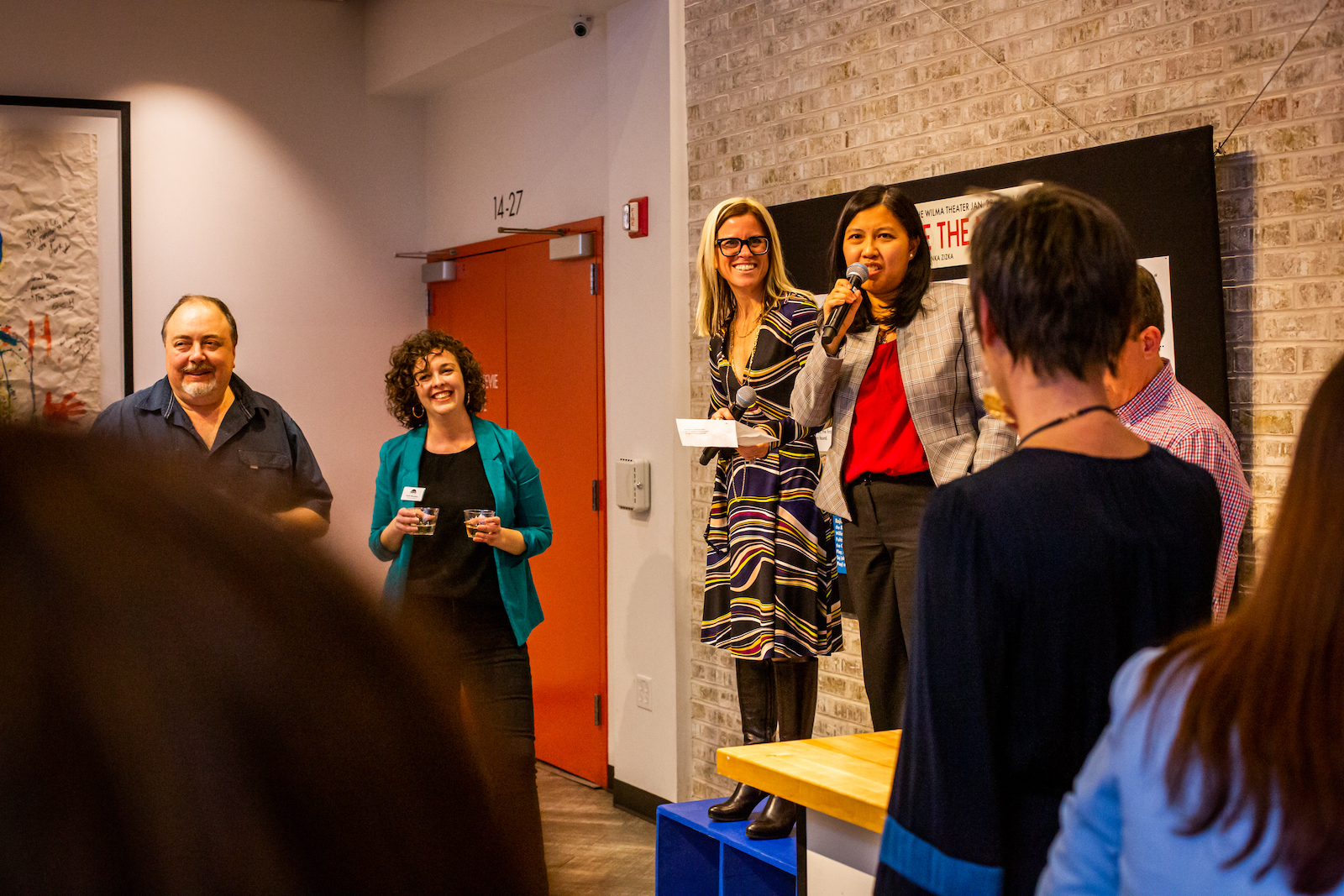 HOW HAVE YOU FELT ABOUT THE WILMA DURING YOUR TIME ON THE BOARD SO FAR?
Wray: Energized by the continuing vision of the Next Chapter and excited about the promise and potential impact of the Artistic Cohort. Incredibly proud of our work with students in Philadelphia public schools
Katherine: I was excited to find that we are an incredibly active board with a long history of committed fundraising and dedicated lovers of theater and the arts. During the shutdown we shared opportunities to enjoy theater online and ways to educate audiences of the value of this experience. While I am excited to get back into the theater, a positive outcome of the pandemic has been the democratization of theater and other performing arts. I'm so proud of the innovative ways we have delivered work during this time and to an ever-widening audience. It keeps growing and evolving and is so exciting to see.
Cindy: I joined the Wilma's board at the time of the Next Chapter rolled out, and then the world was altered by a global pandemic. It has been a very fast-paced, challenging time! I am amazed at how the Wilma has really risen to the challenge of COVID-19. Every business has been hit pretty hard by COVID-19, but to see how the artists, theater employees and management team pivoted, bootstrapped, and innovated with a lot fewer resources than many companies is pretty humbling. And despite having to operate with these challenges, seeing the Wilma team provide a tremendous amount of community support shows what drives the Wilma.
I remember thinking to myself, there really isn't anything the Wilma team couldn't do.

Wilma Board Treasurer Cindy Lewis
WHAT ARE YOUR PROUDEST OF THE WILMA'S ACHIEVEMENTS?
Wray: Our resolve to stay open, preserve jobs and innovate in the midst of an incredibly challenging pandemic. The resilience of Wilma Staff and our Board during this time has been remarkable. We are among just a few theaters that remain open during the crisis and are positioned to play a key role in defining the future of how art is produced and shared amongst both live, digital, and radio audiences.
The pandemic also creates an opportunity for the Wilma to renew and expand our commitment to education and engagement within the Philadelphia public school system. As I know from firsthand experience, exposure to the Arts creates a sense for self, appreciation for the views of others, and for the importance of teamwork. I am proud of what the Wilma has done thus far and energized by what we can accomplish going forward in this regard
Cindy: The phrase "the show must go on" has taken a new meaning. Witnessing the Wilma put on Code Blue as the first production with the artists all creating remotely, actually sent chills down my spine. Then seeing – strike that – HEARING the radio production of Is God Is was amazing. I was sitting on a beach, streaming Is God Is, and the contrast of the ocean waves crashing in front of me as I was hearing the drama unfold in my headphones was surreal. I remember thinking to myself, there really isn't anything the Wilma team couldn't do.
The first words out of my mouth after the show – "WOW!" We've been hooked ever since.

Board Treasurer Cindy Lewis
WHAT MADE YOU WANT TO JOIN THE BOARD LEADERSHIP?
Wray: The opportunity to collaborate with and learn from a talented group of leaders and artists
​Cindy: The Wilma is on the forefront of changing the theater industry – I'm honored to be a part of the board leadership team during this time of transformation. The Wilma is going to be a success story, and I want to be a part of it.
WHAT ARE YOUR DREAMS FOR THE WILMA?
Wray: That we continue to innovate. I am excited for our first live production, when it is safe to do so.
Katherine: I think we are well on our way to achieving them – to continue leading the charge to create inspiring, important work that is accessible to a broad audience and that represents Philadelphia and our larger community.
Cindy: With the streaming of Code Blue, the Fete, and Is God Is, the Wilma is expanding its audience globally! I'd love for the Wilma to continue spreading its influence in this way.
WHAT ARE SOME OF YOUR FAVORITE MOMENTS AT THE WILMA?
Wray: A deep and important conversation—with my daughter and son after we saw Kill Move Paradise.
Katherine: I have vivid memories of seeing David Strathairn on stage in Leaving. I can't believe that was a decade ago already. More recently, it was a riot to be in the audience for Dance Nation to feel and hear how the dialogue and performances resonated with the people around me. Joy, shock— all of the things you want to experience with strangers together witnessing a live performance.
WHAT HOTHOUSE MEMBER WOULD YOU WANT TO PLAY YOU IN YOUR BIOPIC AND WHY?
Wray: Lindsay—he is taller, thinner, and much better looking 😉
Katherine: Suli Holum FTW! She is petite, for one, but most importantly was an inspirational force of nature in Dance Nation. As long as we are pretending someone would make a biopic about me, then that is how I'd like to be portrayed!
ABOUT THE NEW BOARD LEADERSHIP
Wray Broughton (Board Chair) is a Director within Ernst and Young's Financial Services Group. With a BA in Economics from Hampden-Sydney College, his professional experience spans banking, capital markets, and professional services. In addition to his position as Chair of the Board of Directors for the Wilma Theater, Wray has serviced in varying roles on Boards of Directors and Advisory Committees for organizations focused on the personal development and academic achievements of minority youth for more than twenty years.
Katherine Kelton (Board Vice Chair) has two decades of experience leading legal, compliance, and human resources functions in private-equity backed and public companies, with specific expertise in healthcare technology. Ms. Kelton was most recently the General Counsel, Chief People Officer and Corporate Secretary for StayWell, a health empowerment company acquired by WebMD in March 2020. Prior to StayWell, Katherine spent a decade at Aramark Corporation, as the global Chief Compliance Officer and as an Assistant General Counsel supporting Aramark Healthcare. Ms. Kelton is a dedicated non-profit director, and currently serves as the Vice Chair of the Board of Directors of the Wilma Theater and on the Board of the Forum of Executive Women. She is a past President of the Board of Directors of AccessMatters and Director of the Support Center for Child Advocates. She resides in Philadelphia with her husband.
Cindy Lewis (Board Member) is Chief Financial Officer of Valley Forge Capital Management (VFCM). In her capacity of CFO, she oversees all aspects of finance and accounting operations, including financial planning, financial and regulatory reporting, treasury management, tax compliance and strategy, and business analysis. Prior to joining VFCM, she worked at Aberdeen Standard Investments, Inc., TIFF Advisory Services, Inc. and Ernst & Young LLP. Cindy serves on the board for the Wilma Theater. Cindy is a certified public accountant and has an MBA and a BS from The Wharton School of the University of Pennsylvania.