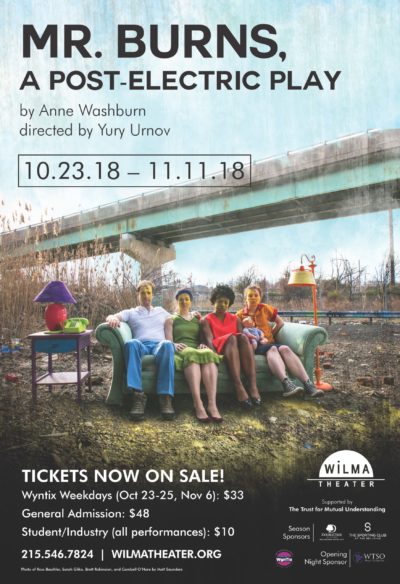 Running Time
3 hours (includes two 15-minute intermissions)
Mr. Burns
A Post-Electric Play
by Anne Washburn
directed by Yury Urnov
October 23 – November 11, 2018
The power grid is gone. D'OH!
Disaster has struck and the world is in darkness. In the aftermath, a group of survivors gather in the dead of winter, trying to brave their new reality by recounting another remnant of the bygone world: The Simpsons. Join the HotHouse Company as they tackle Anne Washburn's wickedly smart dark comedy that charts life after lights in the path to rebuilding civilization, with America's favorite family as the cornerstone.
The piece is at once an affectionate tribute to a beloved pop institution, The Simpsons; a wisdom-laced illustration of the basic human need for stories; and a diabolically inventive game of telephone.

Peter Marks, The Washington Post
Not incidentally, "Mr. Burns" also makes a case for theater as the most glorious and durable storyteller of all. I look forward to remembering it for a long, long time.

Ben Brantley, The New York Times
Supporters
This production is supported by The Trust for Mutual Understanding.