An Update to Our 2020-21 Season
October 6, 2020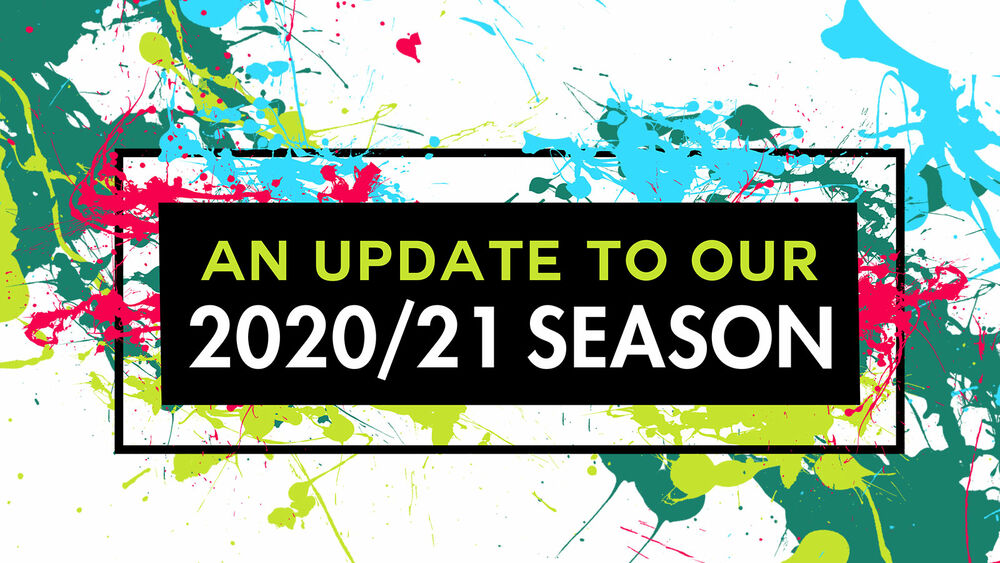 Dear Wilma Friends,
Today we are sharing thoughts about our 2020-21 Season and have some important and exciting updates to share.
Even while working remotely, the Wilma kept producing through the summer. Our archival video of Kill Move Paradise raised more than $40,000 in support of Black Lives Matter Philly; more than 1,250 people listened to our first audio-production, Is God Is over one weekend; and more than 2,400 people have seen Code Blue, our newest experiment with video-production, which is still available for free on our website.
While in the midst of pandemic, we stand by the core values of our mission – to create living, adventurous art. We'll continue using this moment as a call to experiment, and as an opportunity to invent new art forms.
We also stand by our earlier decision for this season to be an introduction to the innovative collaboration between our new cohort of Co-Artistic Directors: Morgan Green, James Ijames, Yury Urnov, and Blanka Zizka.
As much as we want us all to get back to live theater, we'll keep postponing this moment as long as needed to keep our actors, audiences, and staff safe.
Below is how we are expecting this season to develop.
HEROES OF THE FOURTH TURNING
We are planning to release our first full-length production of the season – Heroes of the Fourth Turning by Will Arbery, directed by Blanka Zizka – as a digital production. This show was the most anticipated production of the season in last Sunday's article in the Philadelphia Inquirer.
Heroes of the Fourth Turning will not be created over Zoom, but will instead be a high-quality production with actors performing together in the same outdoor space, professionally captured to create a gripping viewing experience.
Heroes of the Fourth Turning was the most decorated new play of last season, winning the 2020 Obie Award for Playwriting, the New York Drama Critics' Circle Award for Best Play, and the Lucille Lortel Award for Outstanding Play! It was also a finalist for the 2020 Pulitzer Prize for Drama.
We have a plan to create it safely. After going through quarantine and coronavirus testing, our creative team will travel to a secluded location in the Poconos, and will stay there in a closed quarantined "bubble" for three weeks, getting tested regularly while rehearsing and capturing the play.
The cast of Heroes of the Fourth Turning consists of HotHouse company members Sarah Gliko, Justin Jain, Jered McLenigan, and Campbell O'Hare, along with award-winning performer Mary Elizabeth Scallen, who previously appeared in Angels in America at the Wilma.
Rehearsals for Heroes of the Fourth Turning are underway, and the specific dates for its digital release will be announced soon. Please keep an eye out!
If you purchase a WilmaPass, you will be able to use your tickets to stream Heroes of the Fourth Turning, watching this new production from the comfort of your homes. Extra WilmaPass tickets can be shared with friends. Single tickets will also be available at a later date.
WilmaPass holders can click here to redeem their WilmaPass tickets for a link to view the production when it is released.
FAT HAM & MINOR CHARACTER
We are pleased to announce that we are committed to producing both Fat Ham by James Ijames, directed by Morgan Green, and Minor Character by New Saloon, directed by Yury Urnov, between March and June of 2021.
We do not know yet whether these plays will be released fully digitally or with a new hybrid model, in which we would have some audiences in the theater and some at home. But we have committed to those shows and that time period.
We will continue to keep safety as our priority, and we'll keep informing you periodically on our progress and decisions.
FAIRVIEW
For artistic reasons, we have decided to postpone Fairview by Jackie Sibblies Drury until the 2021-22 Season. This play demands to be produced with actors and audience in close physical proximity, which simply is not possible this season.
If you purchased a four-ticket WilmaPass, we will have some exciting additions to the season, which you can use your WilmaPass tickets to access. We also encourage you to share your WilmaPass tickets and our digital productions with friends, including those across the country.
We will also have discounts, special sneak peaks, and more fun treats for WilmaPass holders throughout the season.
In early 2021, we also aim to re-release some of Wilma's digital works from 2020 and are exploring ways to collaborate with theaters across the country to share their work with you, too. These events will be an opportunity for you to have discounts, early access, or to redeem a WilmaPass ticket.
HOTHOUSE SHORTS
This season, the Wilma HotHouse acting company members will produce and present HotHouse Shorts. Each of these digital productions will be their own experiments in form and content, from heartfelt personal narratives to groundbreaking music videos to intriguing audio tours. They will be as varied and creative as our award-winning company.
This work is supported by the new Wilma program of regular weekly payments to the HotHouse Company members. These productions will be free with online registration, though we will greatly appreciate any generous donations you would be willing to make to support this work.
HotHouse Shorts will be released periodically throughout the next few months.
STATE VS. NATASHA BANINA
Our first partnership with another theater is with Arlekin Players Theatre. Later this month, for one night only on Oct. 22, we will be presenting Arlekin's State vs. Natasha Banina, a thrilling immersive online production and New York Times Critic's Pick, presented by the Cherry Orchard Festival.
In State vs. Natasha Banina, a teenager tells the story of her life in a small-town Russian orphanage, and how her desire to be free led to a crime of passion. From the inside of a "Zoom court room," she makes unique appeals to you, the jury, letting you into her world where she dreams of love, family, and her future.
Is Natasha guilty? You decide.
Tickets will be on sale soon, and WilmaPass holders will get a special discount.
PURCHASE A WILMAPASS
At this time, we want to ask you to purchase a three-ticket WilmaPass for only $99.
Purchasing a WilmaPass is a way to enjoy our work this season, while also making an investment in our eventual return to live productions. We simply couldn't do our work this season without your support. Ticket prices only cover a portion of our costs, so please consider adding a tax-deductible donation to your order.
We look forward to sharing our art with you this season. We miss you!
Sincerely,
Yury Urnov, 2020-21 Season Leading Artistic Director
Leigh Goldenberg, Managing Director
James Ijames, Morgan Green, and Blanka Zizka, Co-Artistic Directors